About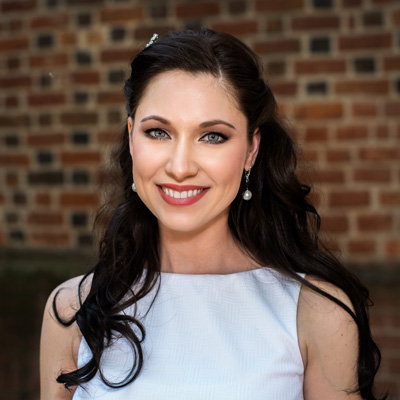 Migle is a makeup artist based in North of Boston, MA. Beginning with a degree in Fashion Design and Art, Migle's natural talent and impeccable aesthetic sense have fluidly propelled her into the world of makeup artistry. With more than decade of experience in fashion creation and working for some of the biggest cosmetic companies such as MAC, Estee Lauder and Hourglass, she has a solid understanding of colors, design and transformation in the art of makeup. She is thrilled to have this opportunity to express herself in the makeup artistry field, while helping people to find their natural beauty and enhance their best features. No matter whether you choose "nude" or a more dramatic look, Migle can bring out your inner goddess and make you feel special.



Testimonials
Things people say about Bella la Belle makes us go an extra mile and admire what we do even more!
Migle is wonderful! I met with her for a make-up trial, where she listened to my ideas and was happy to make changes as she went, if I wasn't completely happy. Once we had a look that I liked, she took detailed notes of what she used for make-up brands/colors, so that she would be prepared on my wedding day. She brought a whole professional set-up with a large light, to my wedding venue. The photographer had never seen such a well prepared makeup artist, and my bridesmaids (who have all been in many wedding at this point), thought she was great! She made us look gorgeous, without looking over done when people saw us in person (it didn't look like we were wearing masks or stage make-up). I have tricky skin- it's dry and I have acne scars, and she made me look my best while still looking like me! I would book Migle again in a heartbeat- maybe for a family photo shoot when we have a baby? :)
Emilie R.
Migle is a wonderful makeup artist, she definitely knows what she is doing. From the first time I met her, I was surprised with all of the products she carried. She has a special lamp that will ensure you are picture ready, a chair, and a suitcase full of everything she might possibly need to transform you. She immediately assesses your features, to apply the correct makeup techniques needed to enhance your natural beauty. As she works, you get to understand more about makeup as she talks about what she's doing and why. Migle uses high end products from different brands, carefully choosing what she likes best from each, making sure they don't have ingredients that will screw up your photos. If you are looking to have incredible pictures taken for your wedding and learning more about what works best for your face, Migle should be your go to. I know for sure that all of the bridal party loved their makeup, since she did such a unique job on all of us. Her fantastic work even landed her more, as others saw her skills and begged her to do their makeup too.
Mariana G.
Migle is amazing and I am so happy I hired her. Someone else in my crew ended up deciding to get her makeup done as well and loved Migle; she said it was the best wedding makeup she's had done. Migle was attentive to the looks we were going for, my allergies, and my skin problems. I was so worried about redness or faded marks on my face being an issue for my wedding, and those fears went out the window when Migle worked her magic. Plus, Migle is very nice and fun to work with. Worth every penny!
Farah F.
Migle is so professional and talented! I didn't have to worry about a thing the entire experience which gave me such piece of mind. My bridesmaids and the moms looked fantastic and the girls raved about their experience. Reasonably priced and a really fantastic experience. Thank you Migle!
Caitlin R.
Exceeded expectations - stunning!!
Migle is just absolutely the best. Her attention to detail was greatly appreciated. She made sure she did all she could to make sure false lashes were comfortable and looking good, and that our makeup could withstand hours of pictures and dancing. I would recommend her to any person looking for makeup! She didn't force any type of look. Instead, she listened to what we wanted and enhanced our natural beauty rather than making us into something we're not. My wife and I both felt like royalty on our big day. LGBTQ-friendly :)
Cindy A.
Migle is so talented and works with you on every step and ensures that you are comfortable with your look. I LOVED the look she gave me and every single one of my bridesmaids said it was the best wedding make up they ever had. My make up lasted all night!! She is so sweet and fun to work with. HIGHLY RECOMMEND!!!
Ann N.
Portfolio
All
Before After
Special Occasion












Services
As Migle is a freelance makeup artist, flexibly affordable pro makeup prices for weddings, editorial photo shoots, personal special occasions, or any other need are available. Every makeup is applied using the highest quality HD Photo friendly products from MAC, Estee Lauder, Yabi, Cinema Secret, Lancome and etc. Please use this form to email or text/call at 781-353-4134 to get an estimate for any makeup services you need. Some dates during high wedding season may require minimum service amount. 2024 season rates are listed below.
Bridal Makeup Trial
$120
Personalized consultation
Skin prep, priming & makeup
False lash application
Bridal Wedding Makeup
$180
Onsite makeup application
Skin prep, priming & makeup
False lash application
Bridesmaid/Guest Makeup
$120
Onsite makeup application
Skin prep, priming & makeup
False lash application
Other Special Occasion
from

$120
Onsite makeup application
Skin prep, priming & makeup
False lash application
Best Value
Wedding Package *
$800
Bridal Makeup Trial
Bridal Wedding Makeup
5x Bridesmaid/Guest Makeup
* Available from Nov 1st to March 31st
Makeup & Photo Session
from

$500
Full makeup application
On location photo session, 1hr
Schedule your appointment today
Call Us
Frequently Asked Questions
If you're considering hiring a professional makeup artist, chances are you have a very important—maybe even once-in-a-lifetime—event ahead of you. Whether it is a wedding, engagement, bridal shower, prom, or other special occasion, everyone involved will want to look their best and enjoy every minute of such a celebration. The fun, exciting memories made during this event will live on in pictures for a lifetime. But while the event itself is rewarding, preparations may bring few unexpected snags—don't let your makeup be one of them! An experienced, professional makeup artist will arrive at your event and ensure that everything goes smoothly to achieve the look you want — one which fits you and your personality. Whether you choose a minimal, natural look; glam makeup; or something in between, a talented makeup artist will make you look and feel your best. Let us use our skills and knowledge to create a stress-free environment where you feel comfortable and relaxed.
Contact
Serving Essex County and surrounding areas in Eastern Massachusetts.